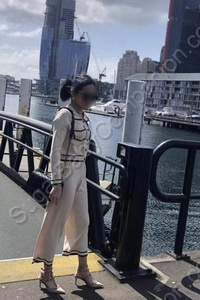 — Profile
This sugar baby is 19 years old, 1.65m, 50kg, a student in Sydney Australia.
She is beautiful and attentive.
This sugar baby is available in Australia.
Other Language: Chinese.
— Resume
I was born in a government employee family. My parents both work in the government. I've been in Sydney a couple of years. I'm in my second year at university in Sydney. I studied philosophy at university. I am a very beautiful sexy & cheerful outgoing lovely fun girl. I'm looking for a sugar daddy who can take good care of me, Who is generous & patiently .who is gentle and funny and talkative, Take me out to a fancy restaurant. Teach me to be a better one & can help me finish my study.
— Sugar Baby Fees
This lady has 5 types of service fee (2 Test Dating, 3 Sugar Daddy – Sugar Baby Packages) –
>> Test Dating (naked oral included, sex is optional)
> Half-day Dating
You can meet with this lady for half day in her city.
Daytime (before 10pm) 6 Hours: A$/€/$ 900 + A$/€/$ 1,000 (sex)
Overnight 10 Hours: A$/€/$ 1,200 + A$/€/$ 1,000 (sex)
> Full-day Dating
You can keep meeting with this lady for whole day (24 hours/day).
1 Day: A$/€/$ 1,667 + A$/€/$ 1,000 (sex)
Add. Day: A$/€/$ 500 + A$/€/$ 1,000 (sex)
(after 4 days Full-day Dating, you can get 1 day for free)
>> Sugar Daddy – Sugar Baby Package (sex included)
> Sponsorship Package
You and this lady live separately, but meet 1 time per week in her city.
Month: A$/€/$ 6,500 (full day x 4), A$/€/$ 5,667 (half day (overnight) x 4), A$/€/$ 3,667 (half day (daytime) x 4)
> Tuition & Home-stay Package
You makes an upfront payment of one semester's tuition for the lady and provides her accommodation. The lady will live with you for the semester. However, during this period, she can still go for the dating from SBC.
6 Months: A$/€/$ 33,333 (tuition) + A$/€/$ 6,667/month (pocket money)
> Tuition & Meeting Package
You make an upfront payment of one semester's tuition for the lady and provide her pocket money. The lady will meet you 4 days per week / 16 days per month.
6 Months: A$/€/$ 28,333 (tuition) + A$/€/$ 6,667/month (pocket money)
— Status
>> Availability: Yes
>> Ever met any clients: No
>> Been booked: No