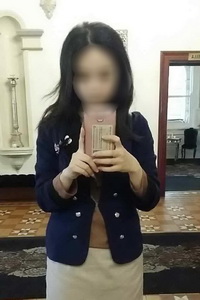 – Profile
This sugar baby is 22 years old, 1.60m, 47kg, a student in Melbourne Australia.
She is beautiful and honest.
This is one of our most beautiful ladies.
This sugar baby is available worldwide.
Other Language: Chinese, Taiwanese.
(The girl has already received 2 shots of the vaccine.)

– Resume
I am currently studying bachelor of Networking in Australia, I can write the coding program (HTML, paython, Kali linx ). I'm looking for a long term sugar daddy, I can service him as a girlfriend even could work together at office like secretary or programmer.
– Comment from Club
This lady is beautiful and well-educated. She could be both your lover in your bedroom and secretary/programmer in your company.
– Sugar Baby Fees
This Sugar Baby has 5 types of service fee (2 Test Dating, 3 Sugar Daddy – Sugar Baby Packages) –
>> Test Dating
> Half-day Dating
You can meet with this girl for half day in her city.
Daytime (before 10pm) 8 Hours: A$/€/$ 1,190, 4 Hours: A$/€/$ 665
Overnight 11 Hours: A$/€/$ 1,260
> Full-day Dating
You can keep meeting with this girl for whole day (24 hours/day).
1 Day: A$/€/$ 1,680
2 Days: A$/€/$ 2,730
Add. Day: A$/€/$ 700
>> Sugar Daddy – Sugar Baby Package
> Sponsorship Package
Standard Package: you and this girl live separately, but meet 1 time per week in her city.
Month: A$/€/$ 5,900 (full day x 4), A$/€/$ 4,800 (half day x 4), A$/€/$ 3,700 (4 hours x 4)
> Sponsorship Package
Standard Package: you and this girl live separately, but meet 1 time per week in her city.
Month: A$/€/$ 4,130 (full day x 4), A$/€/$ 3,360 (half day x 4), A$/€/$ 2,590 (4 hours x 4)
Sexy Secretary Package: this girl works in your office as a programmer or secretary, plus lover.
Month (1 day per week (60% for 1 more day)): A$/€/$ 4,270 (full day x 4), A$/€/$ 3,500 (half day x 4), A$/€/$ 2,730 (4 hours x 4)
> Fostering Package
You and this girl live together like a couple, or travel together for holidays.
Week: A$/€/$ 6,020
Month: A$/€/$ 17,500
> Tuition & Home-stay Package
You make an upfront payment of one semester's tuition for the girl and provide her accommodation. The girl will live with you for the semester. However, during this period, she can still go for the dating from SBC.
6 Months: A$/€/$ 12,600 (tuition) + A$/€/$ 1,050/week (pocket money)