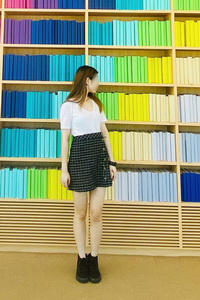 – Profile
This sugar baby is 20 years old, 1.63m, 45kg, a student in Sydney Australia.
She is quite pretty and attractive.
This sugar baby is available worldwide.
Other Language: Chinese.
(She is the sister of L508)
– Resume
I'm a young petite nice student girl from China. And I'm also fit skinny and have milky skin. I did love talking and laughing. My hobby is doing sport reading and photography. I'm still study in university nowadays and my major is construction of project management. It's about how to manage a project end-to-end or be an effective and valuable member of the project team. My score is always good and I study very hard.But my family have some difficulties to support with my tuition. I hope I can find a gentle person who could help me with that so I can continue with my study.
– Comment from Club
This lady is an honest sugar baby. We recommend her to all serious sugar daddies.
– Sugar Baby Fees
This Sugar Baby has 5 types of service fee (2 Test Dating, 3 Sugar Daddy – Sugar Baby Packages).
>> Test Dating
> Half-day Dating
You meet with her for half day in her city.
Daytime (before 10pm) 8 Hours: A$/€/$ 1,800
Overnight 11 Hours: A$/€/$ 1,800
> Full-day Dating
You keep meeting with her for whole day (24 hours/day).
1 Day: A$/€/$ 2,240
2 Days: A$/€/$ 3,680
Add. Day: A$/€/$ 960
>> Sugar Daddy – Sugar Baby Package
> Sponsorship Package
You and her live separately, but meet once a week in her city.
Month: A$/€/$ 5,600 (full day x 4), A$/€/$ 4,600 (half day x 4), A$/€/$ 3,600 (4 hours x 4)
> Fostering Package
You live together with her like a couple, or travel together for holidays.
Week: A$/€/$ 7,600
Month: A$/€/$ 20,000
> Tuition & Home-stay Package
You makes an upfront payment of one semester's tuition for her and provides her accommodation. She will live with you for the semester. However, during this period, she can still go for the dating from SBC.
6 Months: 6 Months: A$ 23,000 (tuition) + A$900/week (pocket money)
>> Special
> Two Sisters (L506 + L508) Fee
Two girls' total price x 90%.