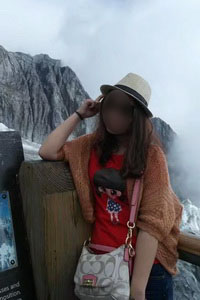 – Profile
This sugar baby is 28 years old, 1.65m, 65kg, a student in Melbourne Australia.
She is honest and attentive.
This sugar baby is available in Australia.
Other Language: Chinese.
– Resume
My name is Nicole, I'm from China. I've lived in Melbourne for 3 years.  After graduating from my Master's degree, I tried my best to find a job, but because of COVID-19, It was difficult for me to find a suitable job. Now I only have an unpaid internship, besides, I have online lectures every Saturday. That's so difficult for me to live, I hope a kind hearted sugar daddy can help me. I am currently unmarried. I hope that if I can get along with you, we can get married later. If you are married, I will not disturb your family.
– Comment from Club
This young lady is looking for the sugar daddy urgently.
– Sugar Baby Fees
This Sugar Baby has 5 types of service fee (2 Test Dating, 3 Sugar Daddy – Sugar Baby Packages) –
>> Test Dating
> Half-day Dating
You will meet the Sugar Baby for half day in her city.
Daytime (before 10pm) 8 Hours: A$/€/$ 1,300
Overnight 11 Hours: A$/€/$ 1,300
> Full-day Dating
You and the Sugar Baby will stay together for whole days (24 hours/day).
1 Day: A$/€/$ 1,600
2 Days: A$/€/$ 3,000
Add. Day: A$/€/$ 900
>> Sugar Daddy – Sugar Baby Package
> Sponsorship Package
You and her live separately, but meet once a week in her city.
Month: A$/€/$ 4,800 (full day x 4), A$/€/$ 3,800 (half day x 4), A$/€/$ 3,200 (4 hours x 4)
> Fostering Package
You live together with her like a couple, or travel together for holidays.
Week: A$/€/$ 6,000
Month: A$/€/$ 16,000
> Tuition & Home-stay Package
You makes an upfront payment of one semester's tuition for her and provides her accommodation. She will live with you for the semester. However, during this period, she can still go for the dating from SBC.
6 Months: A$ 8,500 (tuition) + A$ 900/week (pocket money)