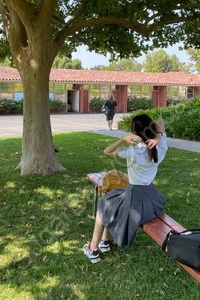 – Profile
This sugar baby is 18 years old, 1.65m, 58kg, a student in Los Angeles USA.
She is very beautiful and cute.
This baby is available in USA only.
Other Language: Chinese.
– Resume
Hi! I'm Annie, because I want to go to my dream university, so I want to get money through this way. I hope you can help me realize my dream of being a fashion designer. As I am still a virgin, I am worried about sexual behavior, so I do not open this service. We can try to chat first, Go through more things to get to know each other. I also hope to have a long-term accompany of the daddy. Looking forward to meeting you!
– Comment from Club
This young lady is a virgin.
– Sugar Baby Fees
This Sugar Baby has 4 types of service fee (1 Test Dating, 3 Sugar Daddy – Sugar Baby Packages) –
>> Test Dating
> Half-day Dating
You will meet the Sugar Baby for half day in her city. (This girl cannot do any sexual activities in this Test Dating. Your understanding and cooperation will be appreciated.)
Daytime (before 10pm) 8 Hours: A$/€/$ 3,360
>> Sugar Daddy – Sugar Baby Package
> Sponsorship Package
You and her live separately, but meet once a week in her city. (She can give oral without extra charge, and may accept vaginal sex with extra charge if she feels good in this Sugar Daddy – Sugar Baby Packages.)
Month: A$/€/$ 14,400 (half day x 4)
> Tuition & Meeting Package
You makes an upfront payment of one semester's tuition for her and provides her pocket money. She will visit you twice a week. (She can give oral without extra charge, and may accept vaginal sex with extra charge if she feels good in this Sugar Daddy – Sugar Baby Package.)
4 Months: A$/€/$ 26,100 (tuition) + A$/€/$ 1,600/week (pocket money)
> Elderly Companionship Package
You employ her a non-sex companion. She will visit you one time per week and provide companionship and assistance with household or personal tasks.
Month: A$/€/$ 8,000 (half day/overnight x 4)