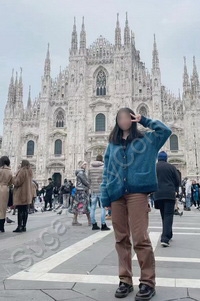 — Profile
This sugar baby is 23 years old, 1.65m, 55kg, a doctor degree student in Glasgow UK.
She is beautiful and attentive.
This sugar baby is available in UK.
Other Language: Chinese.
— Resume
My parents are very ordinary workers. My studies have been relatively smooth since elementary school. I went to study in Beijing for my undergraduate degree, and went to Sweden for my master's degree. With some scholarships, I have been working on a work-study program. I was lucky enough to apply for a doctorate in the United Kingdom and won a half-award. Currently in the first year of Ph.D., due to time and energy problems, the work-study program is not enough to support the initial investment, such as bench fee, IHS fee, etc., so tuition and living expenses are needed. I am a relatively well-behaved person, but have my own principles. I hope to spend the past few years of study and life smoothly. In the future, I plan to save some money and some savings. After graduating from the Ph.D., I want to go to the United States to do post-doctoral research for two years, and I will most likely return to work in China later.
– Sugar Baby Fees
This Sugar Baby has 8 types of service fee (2 Test Dating, 6 Sugar Daddy – Sugar Baby Packages) –
>> Test Dating
> Half-day Dating
You will meet the Sugar Baby for half day in her city.
Daytime (before 10pm) 8 Hours: A$/€/$ 1,755
Overnight 11 Hours: A$/€/$ 2,490
> Full-day Dating
You and the Sugar Baby will stay together for whole days (24 hours/day).
1 Day: A$/€/$ 2,925
Add. Day: A$/€/$ 1,463
>> Sugar Daddy – Sugar Baby Package
> Sponsorship Package
You and her live separately, but meet once a week in her city.
Month: A$/€/$ 7,313 (full day x 4), A$/€/$ 4,388 (half day x 4)
> Fostering Package
You live together with her like a couple, or travel together for holidays.
Week: A$/€/$ 3,900
Month: A$/€/$ 11,700
> Tuition & Meeting Package
You makes an upfront payment of one semester's tuition for the her and provides her pocket money. She will visit you 2 times per week.
12 Months: A$ 33,400 (tuition) + A$ 1,670/week (pocket money)
> Tuition & Home-stay Package
You makes an upfront payment of one semester's tuition for her and provides her accommodation. She will live with you for the semester. However, during this period, she can still go for the dating from SBC.
12 Months: A$ 33,400 (tuition) + A$ 2,500/week (pocket money)
> Elderly Companionship Package
You employ her a non-sex companion. She will visit you frequently or stay in your home to provide companionship and assistance with household.
(If she visits you two times per week) Month: A$/€/$ 13,340
(If she stays in your home) Month: A$/€/$ 16,670
> Office Lady Package
This slave works for you in your company as a normal staff and play a lover role privately. Total work hours (both 2 roles) is 20 hours per week.
Month: A$/€/$ 10,840
— Status
>> Availability: Yes
>> Ever met any clients: No
>> Been booked: No