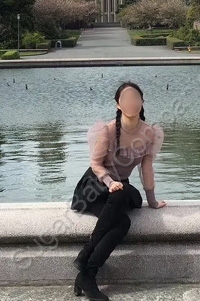 This Sugar Baby (Companion) is 24 years old, 1.63m, 44kg, a student in Seattle USA.
This lady is pretty and attentive.
She is available in USA.
Other Language: Chinese.
> Resume
My name is Carrie, currently a student in Los Angeles. I have been to the States for three years. In my spare time, I like swimming and cooking. I just started learning golf this summer and want to enjoy the California sunshine with you, the reason I came here is that I want to get financial help to pay for the tuition, so that I have the opportunity to become a nurse.
I consider myself as a sweet and optimistic person, with excellent communication and thinking skills, I would like to bring happiness to your life, when you need me, stay by your side. Looking forward to seeing you.
>> Fees
This Sugar Baby has 4 types of fees (2 Short Term Meetings, 2 Long Term Arrangements).
> Short Term Meeting
Half-day Meeting
You will meet the Sugar Baby for half day in her city.
Daytime (before 10pm) 4 Hours: A$/€/$ 700
.
Full-day Meeting
You and the Sugar Baby will stay together for whole days (24 hours/day).
Day: A$/€/$ 800
> Long Term Arrangement
Fostering Arrangement
You and this lady live together like a couple in her cities. During the Fostering period, she cannot date any other man.
Month: A$/€/$ 25,000