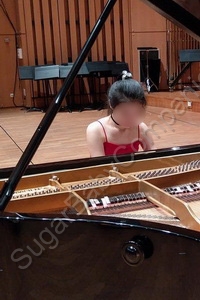 This Sugar Baby (Lover) is 19 years old, 1.64m, 49kg, a student in Paris France.
This lady is pretty and active.
This is one of our most beautiful ladies.
She is available in Paris only, but can travel in the school holidays.
Other Language: French, Chinese, Taiwanese.

>> Resume
Hi, it's Annie. I'm currently studying in Paris. I got a good family background; my father and mother are both doctor and teacher, I got also lawyer relatives. I just got in the most difficult national conservatory in Paris, and I always get good grades at school. I'm active, cheerful, and smart, that's why I got plenty friends. I'm a very popular person at school  But unfortunately, my parents don't really support me studying music, they want me to study main subjects to become a doctor or lawyer… whatever. I got a bf before but I have no sex experience. There's one thing which is very important for me: I can't leave Paris recently so I really hope you could come and meet me in Paris   Finally, nice to meet you!
>> Resume (French)
Salut, c'est Annie.  J'étudie actuellement à Paris.  J'ai une bonne famille ;  mon père et ma mère sont à la fois médecin et enseignant, j'ai aussi des parents avocats.  Je viens d'entrer dans le conservatoire national le plus difficile de Paris, et j'ai toujours de bonnes notes à l'école.  Je suis actif, joyeux et intelligent, c'est pourquoi j'ai beaucoup d'amis.  Je suis une personne très populaire à l'école  Mais malheureusement, mes parents ne me soutiennent pas vraiment pour étudier la musique, ils veulent que j'étudie les matières principales pour devenir médecin ou avocat… peu importe. J'ai eu un petit ami avant mais je n'ai aucune expérience sexuelle.  Il y a une chose qui est très importante pour moi : je ne peux pas quitter Paris récemment donc j'espère vraiment que vous pourrez venir me rencontrer à Paris  Enfin, ravie de vous rencontrer !
>> Fees
This Sugar Baby has 2 types of fees (1 Short Term Meeting, 1 Long Term Arrangement).
> Short Term Meeting
Half-day Meeting
You will meet the Sugar Baby for half day in her city.
Daytime (before 10pm) 3 Hours: A$/€/$ 1,300
> Long Term Arrangement
Sponsorship Arrangement
You and her live separately, but meet once a week in her city.
Month: A$/€/$ 4,800 (full day x 4), A$/€/$ 3,800 (half day(3 hours) x 4)